What is Time-sharing?
Time-sharing was designed to protect the child's best interests during and after divorce proceedings. By replacing the custody model with time-sharing, Florida removed mothers as the preferred caregiver for younger children. The time-sharing schedule set by the court is mandated by Florida Statute 61.13 (3).In some cases, a child lives with one parent, primarily with liberal visitation with the other. Some use an actual shared parenting model and see each parent for an equal time.
Going through a divorce is a significant life change that is made more complicated when children are involved. Parents going through a divorce must make important decisions about how their parenting schedule will work. The majority of families have a shared parenting plan. There are various parenting plans, so each family must decide which works best for them and refine the typical schedules to meet their needs based on school, work, and travel schedules.
Common Parenting Schedules:
Every Weekend Schedule
In this arrangement, the custodial parent has 71.4% of the time with the child, and the noncustodial parent has 28.6%. Parents who opt for this schedule but want equal time can use holidays, vacations, school breaks, and other special events to even out the time.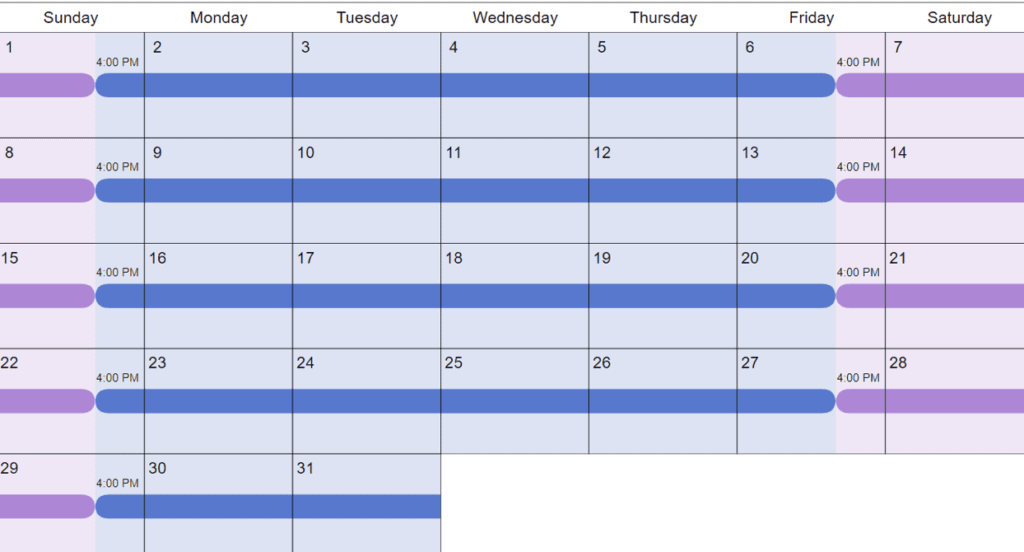 In this schedule, the time with each parent is pretty even. The custodial parent has 51.2%, and the noncustodial parent has 48.8%.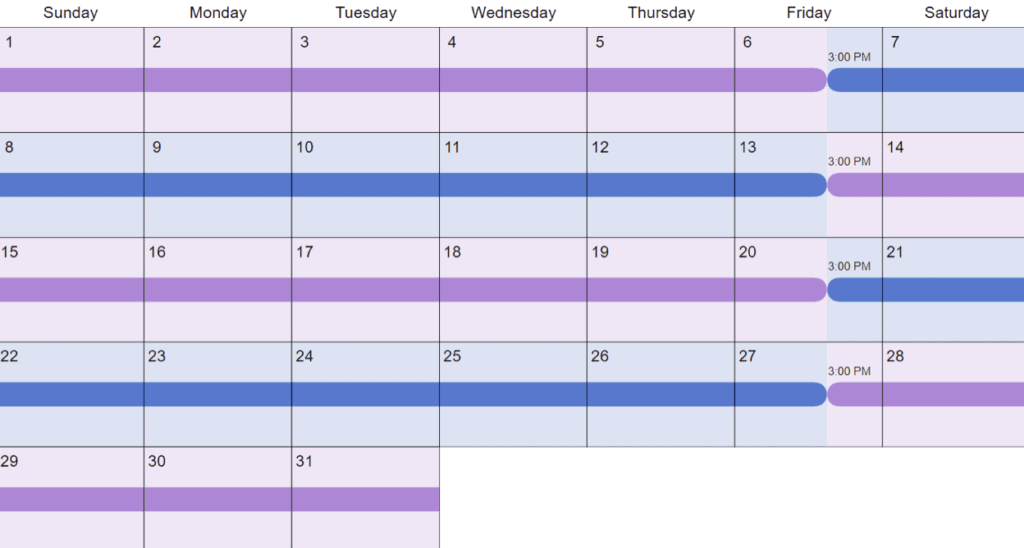 Alternating Weekends Schedule
There is a big difference in the amount of time that each parent has with the child. The custodial parent has 79.8%, and the noncustodial parent has 20.2%. The alternating weekend plan could be the school schedule since the child needs to spend the majority of time at one home. The parents could modify the schedule in the summer, so the noncustodial parent ends up with more time.
Creating a Parenting Plan
Consider:
Work, school, and activity schedules. You want your children to have high-quality parenting time with each parent.
Your children's ages. What works best when they are young may not work in the teenage years.
The location of your homes and the distance between them.
This plan is what is best for your children, not about how many hours you see them. The purpose of a parenting plan is for your children to have a continuing relationship with both parents.
Remember — these schedules are just examples and can be adapted for your children and family. Your attorney will help you figure out how to address vacations and holidays.
Paul J. Burkhart
If you have questions about time-sharing and parenting schedules, contact the Law Offices of Paul J. Burkhart, P.L. The Law Offices of Paul J.Burkhart have experienced attorneys who can help.
Our team assists both individuals and business clients with all their legal needs, including business and Corporate Transactions, Business/Commercial and Civil Litigation, Real Estate, Intellectual Property, Family Law, Probate, and Estate Planning matters. We are a full-service private law firm ready to assist you with any request, large or small. Call 561-880-0155 or visit our website
Law Offices of Paul J Burkhart, PL
800 Village Square Crossing
Palm Beach Gardens, FL 33410
Phone: (561) 880-0155
© Copyright 2021. All Rights Reserved.